The Traveller Information Services Association (TISA) is an industry consortium developing and maintaining standards called Transport Protocol Expert Group Generation 2 (TPEG2) and Traffic Message Channel (TMC).
NNG has been a member of TISA for several years and is using TMC and TPEG2 in its iGO Navigation product's traffic engine. TMC and TPEG2 standards are also internationally recognized; TISA, ISO and CEN are collaborating in standardisation efforts (in development, publication, and the maintenance processes), meaning TPEG2 and TMC are considered international technical specifications and full standards.
Since the beginning of the rise of connected and automated driving technologies, TISA has taken an active role in global industry efforts to address the challenges represented by this disruptive technology trend.
As one of the founding members of the Open Auto Drive Forum (OADF), TISA and its membership has been actively involved in harmonization and synchronization efforts. This in conjunction with other industry consortia such as ADASIS, SENSORIS, NDS, TN-ITS, and with other international organisations such as ISO and ASAM (hosting OpenDrive, OpenCRG, OpenScenario and OpenODD), and the SIP-adus project from Japan.
In order to understand the specific requirements of automated mobility, we analysed the basics of the technology specified by the Society of Automotive Engineers' (SAE) On Road Automated Driving (ORAD) Committee's document J3016 and more specifically, its definition of the Operational Design Domain (ODD).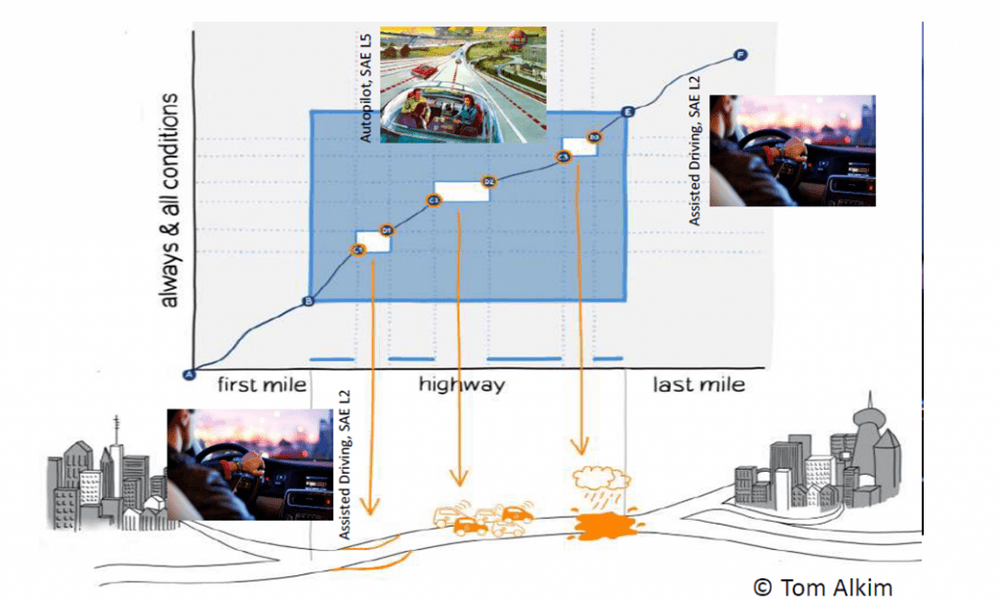 Figure 1. ODD gaps caused by changes in environmental conditions.
(Image reproduced courtesy of Tom Alkim. From his original presentation for SIP-adus 2018)

Automated driving technology defines the necessary conditions and requirements which must be fulfilled while the vehicle uses automated driving functions – and in case these conditions are no longer met the vehicle must be able to fall back to a safe operational mode (e.g. human driving or manoeuvre to a safe parking location).
The transition between machine driving and human driving is always a challenging issue, therefore these gaps (see above) in automated driving operation are the high priority targets of new technology initiatives. TPEG3, HD maps, C-ITS based innovative services (such as the Cooperative Perception Service), and advanced onboard sensor solutions (millimetre wave radars and solid-state lidars) or ISAD (Infrastructure Supporting Automated Driving), are being pursued in order to decrease or (if possible) close them.
NNG employees have played key roles during these activities, leading the work of the Live Map Delivery Chain Task Force of the OADF, developing answers about lane-modelling compatibility issues and about efficient location referencing methods which are relevant for dynamic data map-matching. NNG is chairing the Business Analysis Working Group and the Content and Services Committee of TISA, investigating the opportunities represented by this new technological area from the perspective of TISA membership.
NNG employees are also actively participating in other relevant industry initiatives, such as NDS, ADASIS, SENSORIS, ISO TC204 Intelligent Transport Systems and TC22 Road Vehicles, CEN TC278 Intelligent Transport Systems, SAE ORAD Committee, the European Commission's Connected, Cooperative and Automated Mobility (CCAM) Single Platform, and the Hungarian Mobility Platform – all working on different elements of connected and automated driving (CAD).
Within TISA the output of the above activities has led to the conceptualisation of next-generation dynamic data concepts, supporting automated driving systems, called TPEG3, and currently codenamed Information for Automated Driving (I4AD). TISA has organized internal workshops and meetings to collect stakeholder requirements and ideas.
The main difference between the existing TPEG2 standards (ISO 21219-x series standards) and the future TPEG3 can be summarized as follows:
Information is processed by a navigation device, which prepares graphical and/or audible advice for the driver

TISA has a good understanding of navigation devices

The advice is of strategic nature

The driver acts on the advice and performs the manoeuvres deemed necessary

The driver translates the strategic advice into tactical actions

This translation involves a common-sense human sanity check
Information is processed by an automated driving unit

TISA has currently little or no knowledge of these devices and how it acts on traffic information

The unit will perform the manoeuvres deemed necessary, or decide to involve the driver

The unit has no common-sense and will perform an algorithmic sanity check

Traffic information needs to include a combination of strategic and tactical advice in order to minimise the risk of translation errors by the unit
With the introduction of the Co-Driver concept, NNG has made an important step towards the integration of these different technology elements into its product roadmap, which is pointing towards the industry trend of vehicle-driving automation. NNG is integrating the capabilities and features of machine driving (data from onboard sensors, environmental models, machine recommendations on tactical driving tasks) while the vehicle is driven by the human driver (e.g. during ODD gaps or at the decision of the driver). The machine will act as a capable co-driver, helping the human execute any Dynamic Driving Tasks (DDT) as specified by SAE J3016.
With the capability of lane-level guidance, HD map-streaming, V2X data-integration, and the use of sensor data from environmental models, TPEG3 complements the available data sets and helps enable strategic, tactical, and dynamic decision making, either by the human driver or by the machine.
A strong interaction between the human and the machine is a must until the vehicle automation levels reach SAE Level 5 – full automation.
The pre-standardisation development of TPEG3 has reached the level where TISA has published two papers, a Technical and a Business whitepaper, providing background and the potential market outlook for the new technology.
Thanks to the efforts of NDS map-streaming development, and the integration of environmental model and V2X data, NNG has a perfect background to add these new technologies to its resource pool: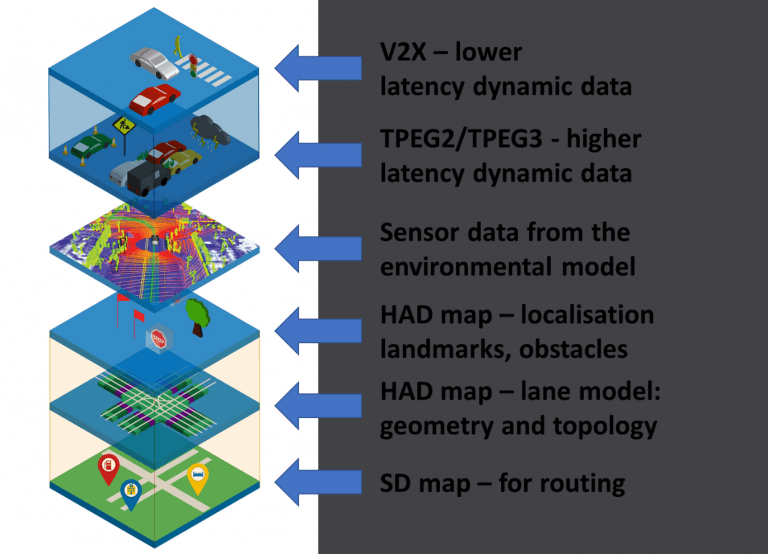 With the Co-Driver concept, NNG will be able to demonstrate its capability to integrate and use different types of data received from in-vehicle systems (sensor data), other vehicles (V2V data), from infrastructure (I2V data) or from trusted data providers (TPEG3 and I2V data).
Smooth integration and use of data, helps when making relevant and safe decisions regarding vehicle strategic and tactical driving. The visualization capability increases the situational awareness of the vehicle's driver, enabling a safe and timely handover, and the execution of DDTs when it is appropriate. In addition, all this data adds substantial value to the completeness of a vehicle's ADAS/AD horizon helping to close any gaps in the ODD of the automated driving function.
Integration of different data (static and dynamic, provided by service providers or by nearby vehicles) by the Co-Driver concept opens the way for NNG to enter the automated vehicle world, and extends the horizon of its product roadmap, bolstering it with innovative solutions supported by current disruptive automotive trends. NNG is therefore dedicated in its support of these developments (and the standardisation of the dynamic and static data necessary for these new technologies) and contributes actively in associated prototyping and piloting activities.
The NNG Co-Driver concept strongly supports all use cases where humans will be assisted by machines, but where the machine cannot be engaged for driving operation (either because of technical and legal restrictions or because of the desire of the human driver).
HMI (Human-Machine Interface) design and integration, such as NNG's Intelligent Cockpit can play a critical role in vehicles, both enabling co-driver use cases and preparing the driver for when automation reaches the magical Level 5 – full, non-conditional automation.
TPEG3 aids both NNG's Co-Driver implementation and ODD gap-closing efforts in the industry, improving the driving and travelling experience of future vehicle users, drivers, and passengers in any mode of vehicle operation.