For those who can't afford to purchase a motorhome outright, renting or leasing one is a great alternative. While rental prices depend on the size of the vehicle, the time of year, and the location, it's still a great option.
Tip: you can save money by cleaning the vehicle yourself before returning it, instead of paying for internal and external cleaning fees.
To improve your fuel consumption efficiency, it's advisable to maintain a constant speed, in high gear where possible, and to avoid driving at high speeds. A sleek motorhome with less wind resistance can also contribute to better fuel efficiency, and removing any items from the roof, such as bikes, canoes, or boxes, can reduce drag and improve your vehicle's overall aerodynamics.
To reduce fuel expenses, you can search for affordable petrol stations in the POI database using the iGO navigation software developed by NNG. For vehicles featuring connectivity, the software can help you locate nearby petrol stations that offer competitive prices and services that cater to your needs, such as filling up your water tank or emptying your wastewater tank.
A typical motorhome with a 2-liter diesel engine can travel 100 km on 10-12 liters of fuel, but this may vary depending on factors such as speed and terrain. The standard fuel tank capacity ranges from 70-90 liters.
If you're looking to save on campsite fees, consider avoiding peak seasons and taking advantage of winter offers for extended stays in certain areas. In Spain particularly, the winter offers can mean you're paying, on average, a fraction of the usual pitch fees. Other money-saving options include staying at pub campsites or clubs' Certified Locations, Certified Sites, or "no-frills" sites. On French motorways, there are "aire de service", 'areas of service' or service areas that often have waste facilities and approved parking bays for motorhomes. Farm stays are also popular options for motorhome travelers seeking basic stopovers (you are expected to buy food, jams, and wine from the farm in return).
You have several options when calculating your route. Opting for the fastest route can help you save time, but sometimes it's advised to select the shortest route, especially when you're towing a caravan and cannot reach full speed, prefer travelling at a lower speeds to save on petrol, and/or don't want to pay for toll roads. Shorter routes may feature more spectacular landscapes – for example in the Alps or along the Adriatic coast – and convince you to stay for extra couple of nights in the neighborhood. Calculating the most economical route seems to be a rational decision. Again, you can count on iGO Navigation, which takes your vehicle parameters into consideration when picking the optimal major and minor roads leading you to your destination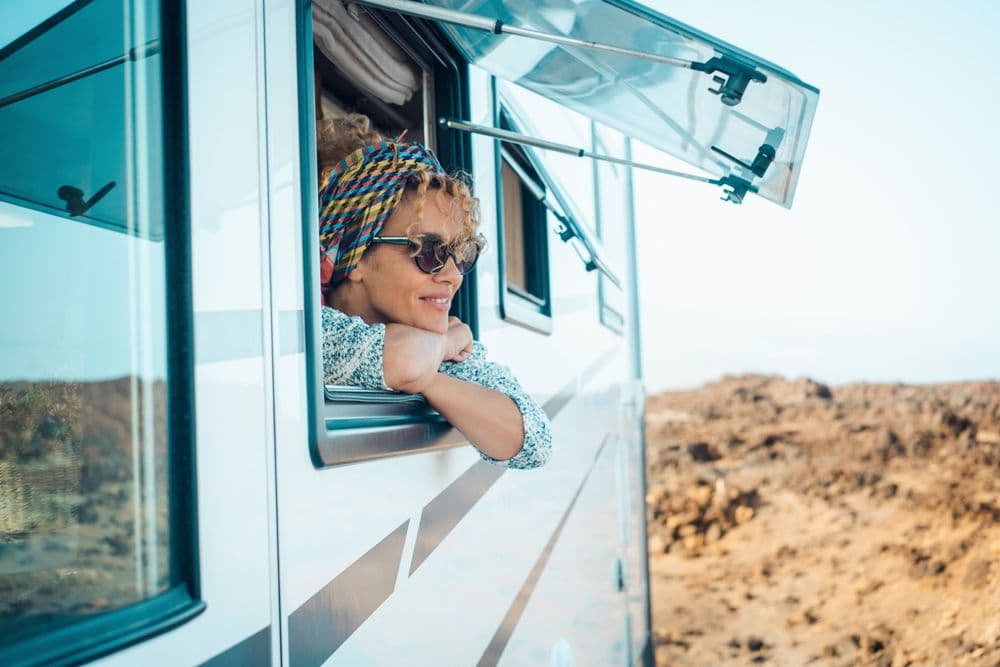 We suggest you to discuss the issue of motorway vignettes with the rental company prior to the start of your journey. The rent normally includes the vignettes required in the given country and neighboring regions, but this is not always the case. In certain countries, tolls are collected in toll plazas, rather than by way of vignettes, and if your vehicle exceeds the set height limit (1.9 meters in Croatia, for instance; or if you're towing a trailer), you must pay a higher fee (sometimes up to 40% more) than you would for a standard passenger car.  
However, if you want peace of mind, GPS navigation software, such as iGO Navigation, enhanced with a motorhome specific features, are designed to warn you of toll roads and speed limits on the go.
All in all, remember, a little planning can go a long way in making your motorhome adventure an unforgettable experience. The priceless experience of freedom and closeness to nature that a motorhome adventure offers cannot be matched by any luxurious hotel stay! It is important to prioritize the experience over cost and plan accordingly for a truly unforgettable journey.