Big tech seems unstoppable, creating solutions designed to disrupt multiple sectors. However, as their reach increases, their offerings can often introduce potential issues for brands and consumers from questions over control through to limited customization options. This is particularly true within the navigation sector where smartphone-first sat nav apps continue to grow in popularity.
While these offerings from the major tech players are downloaded in their millions each year, they can be impractical for both drivers and OEMs compared to embedded solutions. Here are eight examples of key features and services offered by NNG that cannot be rivaled by Silicon Valley:
While mobile navigation apps provide offline capabilities when a mobile signal is not available, they do not offer full onboard functionality. For instance, the apps offered by tech giants allow you to use said full features – but only if you're using a mobile data plan to connect to the internet.
If you're using a wi-fi or a mobile hotspot, you won't have access to up-to-date map and conditions data because a dedicated, reliable data connection is required to download offline maps. Another drawback is when your mobile data plan has recently expired. You only have a short period of time to secure your previously downloaded content before it is automatically deleted.
However, drivers using an NNG solution can enjoy an extensive suite of navigation services via iGO.Connected and iGO.Live, which are both accessible through the IVI or the iGO World app accessible through app stores. Best of all, drivers still benefit from full functionality when no signal is present as all map and POI data sets are stored locally. Learn more by heading here.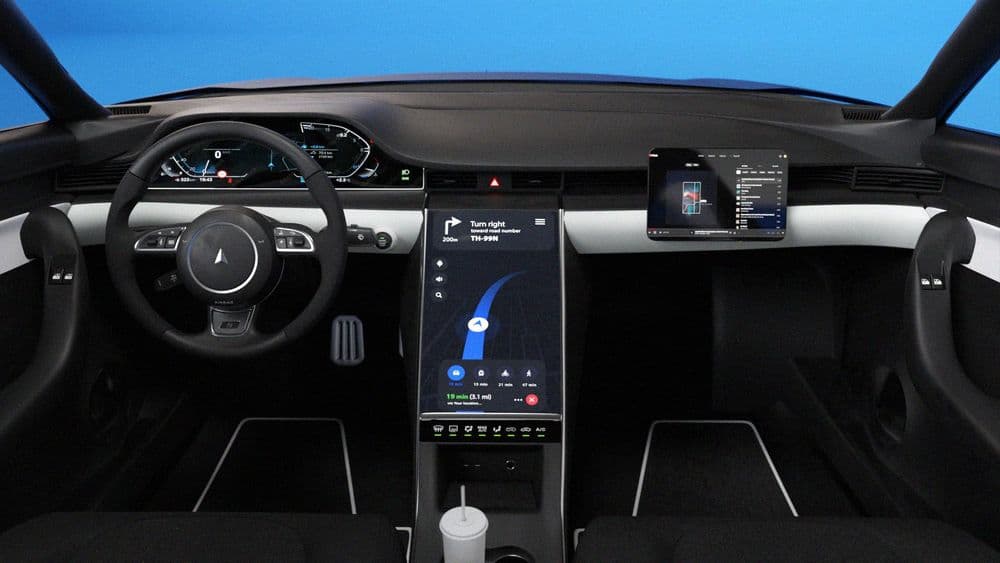 Some big tech navigation apps consume significant mobile data when in use. This can be as high as 1.83 Mb per 20 minutes, which ultimately is not ideal for drivers on fixed monthly data plans (see below). However, NNG's solutions consume significantly less data, meaning usage is reduced and monthly data plans are protected. With our hybrid nav, we can even come in under the super-low 100 MB/month data plans available in Europe and North America.
At first glance, perhaps high usage rates may not represent a deal breaker, but our own research has uncovered some startling results. For instance, we planned a long-range trip on a tech giant's sat nav app, which started in Hungary with routing to Munich and Rijeka, before ending in Berlin. The app's offline maps feature required a huge auto-download of 1.26GB in 30 minutes.
Map data sizes themselves are also an issue. NNG's productized solution (operating with frequent updates) typically produces benchmarks of 1-257MB for offline map downloads. However, we discovered a leading mobile sat nav provider's solution came in at 90-1,700MB; that's typically 3-5 times larger. Again, this represents a genuine data penalty for drivers who need to use the latest offline maps on a regular basis.
None of these issues pose a significant issue for most drivers in the short term as OEMs typically offer a free unlimited data plan for the first 3-5 years of car ownership (though one major automaker charges customers from day one). These data plans are vital to certain big tech players' sat nav apps because they require connectivity to function correctly.
However, once the free period comes to an end, the driver must then pay a monthly fee to continue benefiting fully from their vehicle's built-in connectivity. That's on top of what the customer is already paying for their mobile phone's monthly data plan. The issue of connectivity is also a pain point for OEMs as negotiating unlimited data plan deals with local mobile network providers can represent a significant challenge.
Drivers are becoming insight-rich data mines for tech giants. This represents a two-way street, some might argue, as data accrued about your journeys and driving habits help navigation providers to offer a tailored service. However, many of us are increasingly wary about how our data is collected, managed, and used – and who precisely can gain access to it.
However, NNG does not collect or store any driver data, meaning drivers know their data and privacy is safeguarded. Just as importantly, OEMs have peace of mind that there will be no third-party data leaks or sharing of customer driving behavior. Crucially, auto makers will not need to negotiate with third party providers over who owns what data. Instead, OEMs remain in complete control at all times.
The old adage that nothing in life is free is just as true for supposed 'free' app-based navigation solutions. For instance, one popular app displays an ad when the vehicle is stopped, offering details on nearby restaurants, retail offers, and more.
In some cases, these ads can try to direct you to locations that add time and mileage to your journey. Such intrusions into your personal space are significant, irritating and hardly the last word in sustainable motoring in this era of climate crisis.
Don't settle for compromises when it comes to your navigation needs.
Say goodbye to data limits, privacy concerns, and intrusive ads and experience the power of NNG's comprehensive navigation solutions today.
Keep an eye out for our upcoming blog post as we delve further into the subject.